The 17th Annual CHFR Symposium on Heart Research was arranged by Center for Heart Failure Research between September 18 and September 20, 2019. The Annual Symposium is an important opportunity for Norwegian scientists to meet with international scientists at the forefront of their field in an informal atmosphere. Below are some pictures from this year's Symposium, as well as some brief information on the speakers and topics.
Moderated poster sessions was hosted by NORHEART. Pictures and more information about the poster sessions are provided here.
THURSDAY SEPTEMBER 19
---
OPENING SESSION
SVEIN STØLEN, Rector, University of Oslo:
Opening remarks
JOHN JARCHO, Harvard Medical School, USA:
Key note lecture: The state of the art in heart failure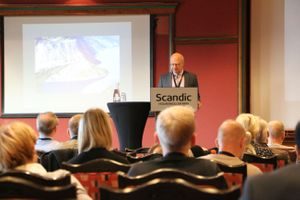 ---
NEW DEVELOPMENTS IN CARDIAC IMAGING AND HEART FAILURE TREATMENT
ROBERT D. GROPLER, Washington University School of Medicine, USA:
Cardiovascular molecular imaging: Challenges and opportunities
JARDEEP JHUND, University of Glasgow, United Kingdom:
Breaking news: Lessons and questions from PARAGON-HF and DAPA-HF
---
PERSONALIZED APPROACHES TO ATRIAL FIBRILLATION
INGRID CHRISTOPHERSEN, Bærum Hospital and Norwegian Atrial Fibrillation Research Network, Norway:
What is the role of genetics in atrial fibrillation? Status in 2019
JOSE JALIFE, University of Michigan, USA:
Translational studies toward personalized stratification of patients progressing from paroxysmal to persistent atrial fibrillation
---
FRIDAY SEPTEMBER 20
---
NEW INTERVENTIONS FOR TREATMENT AND PREVENTION OF CARDIAC DISEASE
PAUL D. THOMPSEON, University of Connecticut, USA:
What cardiologists should  know about exercise
GUY READER, May Clinic and Foundation, USA:
Transcatheter intracardiac shunt device for heart failure with preserved ejection fraction
---
MECHANISMS AND CONSEQUENCES OF INFLAMMATION
BURNS BLAXALL, University of Cincinnati Colege of Medicine, USA:
New targets for cardiac and renal fibrosis
DOBROMIR DOBREV, University of Duisburg-Essen, Germany:
Role of NLPR3 inflammatory signaling in atrial fibrillation
---
RISK FACTORS AND CAUSES OF HEART FAILURE
LINA BADIMON, Hospital de la Santa Creu i Sant Pau, Spain:
Coronary artery disease, ischemia and myocardial damage: The continuum to heart failure?
PETER GANZ, University of California, USA:
Proteomics to improve risk prediction for cardiovascular and other diseases and making drug development safer patients
---
FUTURE OF CARDIAC RESEARCH
ØYVIND HAUGEN LIE, Oslo University Hospital, Norway:
Cardiac arrest in sports: Knowledge and misconception
(All photos: Anders Revdal, NORHEART)